2018 Exhibitor / Sponsor Prospectus

Joint Annual Meeting of the Council of State Archivists (CoSA), National Association of Government Archives and Records Administrators (NAGARA), and Society of American Archivists (SAA)
Marriott Wardman Park Hotel • 2660 Woodley Road, NW • Washington, DC 20008
Conference Dates: August 12-18
Exposition Dates: August 16-17
In August 2018, Washington, DC, will become the ARCHIVES * RECORDS capital of the world! You'll have access to the year's largest audience of archives, records, and information professionals who are eager to learn about your products and services, ask questions, and provide their perspectives. The CAPITAL IDEA! Expo brings together—in one place and at one time—the purchasing decision makers at the national, state, and local levels. Take advantage of their great ideas—and share a few of your own!
Find your target audience
among more than 2,000 archives, records, and information professionals representing government, universities, libraries, corporations, religious institutions, museums, and more.
THE CAPITAL IDEA! EXPO is your best opportunity all year to make CAPITAL GAINS!
Develop relationships with archives, records, and information professionals from the US and around the world.
Reconnect with current customers.
Hear what archives, records, and information professionals have to say about your products – and their future product needs.
Increase your knowledge and understanding of the archives, records, and information professions.
Enjoy 11 hours of conveniently scheduled exhibit time, of which five full hours is unopposed by education programming.
Sell your products on the show floor.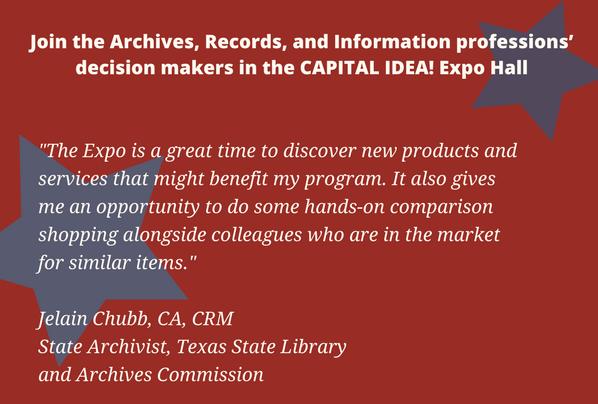 You'll have lots of opportunities to interact with your current and prospective customers! Attendees will be drawn to the Hall for the Grand Opening Happy Hour on Thursday evening and three events on Friday: Morning Coffee Break, the All-Attendee Lunch, and the hour-long Last Chance Break. And each exhibit booth qualifies for two complimentary full conference registrations so that your representatives have a chance to interact with attendees throughout the meeting.
And you'll qualify for outstanding sponsorship and advertising opportunities to broaden your reach. (Prime exhibit space is reserved for conference sponsors.)

As an Exhibitor you'll receive:
Two free conference registrations with each 8' x 10' booth (a $1,000 value!). Your representatives will interact with conference attendees at education sessions and networking events throughout the meeting.
Two additional "Expo Hall only" passes for staff.
Your company listing on the conference website—as soon as your reservation is complete—with an optional link to your website.
A company profile in the Onsite Program, online schedule, and the mobile app.
One-time use of the pre-registrants list, with contact information.
One fully piped and draped exhibit space (8-foot back wall drape and 3-foot side rail drape), one skirted 6-foot table, two side chairs, one wastebasket, and a 7" x 44" identification sign).
Complimentary wireless Internet access in the Expo Hall.
To reserve your booth: Visit the Virtual Expo, where you can view a live, real-time floor plan showing currently available booths—and select and confirm your booth location immediately to be sure that you get the best available location.